Measurements taken with garment lying flat on the ground. Compare given garment measurements against a similar garment you already own.
Chest Circumference - With the jacket zipped up, measure the distance straight across the chest, then double the number.
Bottom Hem Circumference - With the jacket zipped up, measure the width of the jacket at the lowest point, then double the number.

Sleeve Length - Measure from the shoulder seam to the end of the cuff. If you don't see an obvious shoulder seam, measure from the neckline.

Body Length - The length of the jacket from the high point of the shoulder to the bottom hem.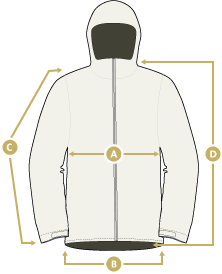 Waist Circumference - With the pants zipped up, measure the width of the waist band, then double the number.

Rise - The length from the top of the waistband to the crotch seam, measured along the fly.

Inseam - The length from the crotch to the bottom edge of the cuff, measured along the inside seam.

Knee Circumference - Measure across the knee, then double it

Leg Circumference - Measure the width of the cuff's bottom edge, then double the number.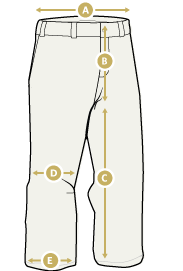 ---
What to look for
There are two main features to look for when shopping for a new pair of pants or a jacket for the snow. They include breathability rating and waterproofing rating. Breathability rating is important as if the garment is not breathable it may keep you dry from the elements but you will perspire and then become wet from the inside thus becoming cold and uncomfortable. Waterproofing rating is important obviously to protect you from moisture, rain and snow keeping you dry and warm.
Breathability
Having a garment that breathes is important in keeping you dry and warm. The breathability rating number indicates how much water vapour can go through the fabric over a period of time. If you are the sort of person that tends to heat up quickly, perspire a lot or a hard skier then a garment with a high breathability rating is just for you. You should look at something in the 15k to 20k range. This rating is among the highest of ski brands ratings.
A high breathability rating is also a good factor to consider if you are cross country skiing, skiing out the back or hiking as you will be working really hard and getting your heart rate at a high level causing you to become quite warm.
Waterproof Rating
Waterproofing rating is obviously important on those wet days. If you are the person who will ski in anything, rain, hail or shine then you should be looking at a garment with 20,000+ waterproofing rating. This is the highest rating amongst ski and snowboard brands.
You should also consider what level or ability skier or snowboarder you are, as Australian ski conditions are extremely wet in comparison to the northern hemisphere if you may be falling over or sitting in the snow after a stack then a jacket that is not going to penetrate the water as easily would be good. Also consider this for children.
If you are someone who really only loves those blue bird days then something in the lower range of 5,000mm to 8,000mm is ok for you.
| | |
| --- | --- |
| Waterproof Rating* | Explanation |
| | OK in light rain or dry snow |
| | OK in light rain or light snowfall |
| | OK under steady downpour, and wet snow |
| | Ok under heavy rain and wet snow |
| | Ok under very high pressure rain and wet heavy snow |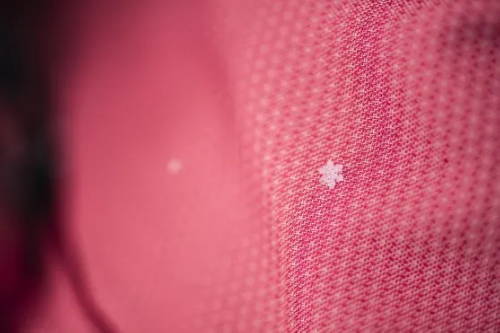 ---
Seam sealing or seam taping
The seams of the garment are sealed for additional water-proof protection. The process seals the tiny holes made in the garment seams when it is being manufactured. Seams and stitching are essential to ensuring the garment remains waterproof, therefore the seams need to be sealed. Check whether the garment you purchase is partially seam sealed or fully sealed.
Fabrics and Materials
There are many different types of waterproofing materials, insulations and fabrics on the market. We have listed some of the most popular.
GORE-TEX®
Garments engineered with GORE-TEX® fabric are durably waterproof and windproof, combined with optimized breathability—enduring products that maximize protection and comfort for the wearer. Multiple fabrics and construction methods include insulated, non-insulated, 2-Layer and 3-Layer.
HyVent
HyVent® - Waterproof/breathable fabric from The North Face is available in several different models. The durable woven outer layer repels wet weather and protects from abrasion, while the inner-layer utilizes a polyurethane coating and micro-pores to channel water vapor to the outer layer. The end result is an exceptional waterproof, breathable technology that stays dry inside and out.
Polartec® NeoShell®
Polartec® NeoShell® - Fabric used by multiple companies: very supple and slightly stretchy fabric with a reported waterproof rating of ~10,000 mm and ground-breaking breathability. Unique membrane allows two-way air exchange to facilitate water vapor evacuation. Cold weather endurance athletes who require exceptional breathability are stoked about this fabric.
Durable Water Repellent Coating or DWR
Durable Water Repellency Technology is a coating that encourages water to bead off the garment therefore not penetrating the fabric. The coating will diminish over time and the garment s ability to stay dry will decrease because the surface of the fabric does not have the same protection. DWR sprays are available from companies like Nikwax, which can be reapplied after you have washed your garment. It is best to follow the manufactuers instructions of how and when to apply the spray.
Down
Down insulation is undoubtedly the warmest insulation for outerwear and can be used in gloves and mitts. It is the lightest and most compressible form of insulation you can use. This means you can be warm without feeling that bulk that can sometimes weigh you down in a ski or snowboard jacket. It is extremely warm which means it is most suitable for cold conditions and mild activity. The down side to down is that if the feathers become wet them will not insulate meaning it really is best for dry conditions. There is
Primaloft
Primaloft is a highly rated synthetic insulation used in outerwear and gloves. It has a high warmth to weight ratio meaning that you don't need bulk to feel warm, providing an extremely lightweight glove or garment. This insulation is also water resistant meaning less moisture absorption keeping you dry and warm. Primaloft is also breathable allowing air to pass through the fabric keeping you dry and warm.
3M Thinsulate
Thinsulate is another type of high quality insulation used in ski and snowboard jackets and pants and gloves. This insulation is highly breathable and keeps you warm by trapping air molecules between you and the outside insulating you from the cold outside air. It is moisture resistant and both machine washable and dry cleanable.
Thermore
Thermore offers an insulaation with maximum design flexibility for outerwear and gloves. They have a high breathability and moisture resistance and also have a patented special reduction process allows up to four thicknesses of insulation per weight category: High Loft, Compact, Super Compact and Ultra Compact (see chart at right). Meaning thermore can offer a variety of levels of warmth for you and your garments.
Polartec®
Polartec® fleece has high technology gone into its design. It has a lofted fibre structure that creates thermal air pockets to prevent convective heat loss and regulate core warmth. This breakthrough design construction provides the highest warmth per weight ratio for insulating materials while remaining highly weather resistant, durable and soft to the touch.
A soft double-sided face gives fleece the versatility to integrate with layered systems, whether worn directly against the skin or on top of other fabrics. The hydrophobic properties further enhance the inherent ability to repel water, resist saturation and dry quickly.
Posted by Naomi Nevin on