Book Online and Save 10% | Use code: CHILL10
Keep your records online and in our system, you will be able to see your previous rental gear.
With brand new gear every year Rhythm are the leaders in equipment and knowledge
Pre-book online and save a minimum 10% on your rental and time when you come into the store
We are here 7 Days during winter so you can stop in & collect your hire before and after your day on the mountain
Hiring Skis & Snowboard @ Rhythm Snowsports
Follow the link to Book Now or the link in our Main menu.
You will need to provide us accurate details of your rental group so we can ensure your in-store experience is fast and effortless.

1. Choose your first full rental day and your last full rental day. (you can still pick up the evening before and return the day after for FREE)


2. Add Equipment- Explore the categories to find your best match. (ski or board only prices are the same as packages)
3. Who is your group leader? they are responsible for the rental booking and need to be an adult!


3. ADD your DISCOUNT chill10 code in the voucher/code section
6. Submit! That's it, we have your details on file and we will fit you when you come in store, show your booking number or name and we will complete your rental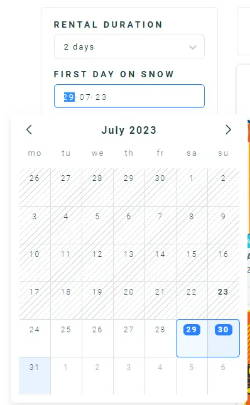 Do i have to pre-book? Can i just show up
You don't have to pre-book your hire online, however filling in your details now speeds up your in-store experience as we have all your information and who's renting.

Our new rental system will allow us to look at your previous bookings from this year going forward. You can also book specific skis and snowboards online for premium demo equipment so you can Rent, Try and Buy a new season ski after you try one of our demo range!
Do you have my last years information on file?
We dont have anything stored from Winter 2020 or previously. We will store all information from Winter 2021 ongoing
Do i need to be fitted each time
Yes!, although you have rented before and might know your boot size it is important to put the boots on and make sure you are comfortable as each boot might feel slightly different.
Collecting & Returning my rental
You still need to come in and return your gear to the Cooma store. You wont fill out any booklets anymore!

Pre-booked? You can line up for your rental straight away with the barcode handy on your phone for your rental which you received to the group leaders email.

Walk-In - Head to a check-in Kiosk and enter your travel dates and renter details, Remember we attach your records to each individual email address so make sure you enter the correct details for each renter in the group.

Returns - Come in with your gear and we will look up your booking in our system and return the equipment with our new app and check all items have been returned.
Help! I'm stuck, i cant complete my rental online
Don't fear! its new and exciting, and hire is a complex process. Reach out to us on our Chat, Email or phone. We are here to help and will make sure you get what you need. We can always fix your rental up once you are in-store.
* No refunds for early returns under any circumstances
*Hire may be collected up to 11hrs prior to your start day. (1pm the previous day)
*You accept full responsibility for any breakage, loss or theft of any of hired items
*If hiring chains you agree that you have consulted your vehicle's owner manual to confirm that chains are recommended for you vehicle
*Rhythm Pty Ltd will not accept responsibility for damage of chains or the vehicle under any circumstances
*Hire must be returned by 11pm on the due day of return or extra fees at current rates will be charge. If hire is not retuned within 7 days of hire, full replacement cost will be charged
*No condition of warranty is implied regarding safety or fitness of hired equipment
*Rhythm Pty Ltd will not accept responsibility or any loss, damage, accident or injury from any use whatsoever
Check out our frequently asked questions for more information on hiring and Rhythm Snowsports
PEOPLE LOVE OUR SKI & SNOWBOARD HIRE
"Hiring gear was quick and easy, and was good quality. They have very good prices for gear hire as well. The modest cafe is excellent, which incredible pies. I also recommend the chilli hot chocolate."

PREMIUM SKI & SNOWBOARD GEAR