guide to the snowy mountains in spring
At Rhythm Snowsports, we live and breathe all things mountains, - from skiing and snowboarding in winter to mountain biking, hiking and camping in spring and summer.

The Snowy Mountains in Winter is no secret destination with people travelling far and wide to hit Perisher or Thredbo and carve up the slopes. However, from Spring to Autumn, the Snowies are a whole other world. From hiking to horseback riding, there's a heap to do, but the jewel in the crown has to be cycling. Whether you're looking for a leisurely few days away with the family or an adrenaline rush with mates, we promise you'll find it in the Snowies! It's a year-round banger of a time!

With lots of different areas and terrains to explore, you really are spoilt for choice, and we know that that choice can be overwhelming. To help you find your perfect cycling spot, we've put together our guide to mountain biking in the Snowy Mountains, including our team's top picks for:

- Cooma
- Jindabyne
- Thredbo
- Perisher

best way to see the snowy mountains?
hit the local mountain bike trails!
THE BEST SPOTS FOR MOUNTAIN BIKING IN THE SNOWIES


COOMA
Right on our back door, Cooma has some awesome cycling both for road bikes and mountain bikes. It's home to a specialist Mountain Bike Park, Mt. Gladstone which, offers a range of down hill trails for everyone.
Sitting pretty just an hour and a half from Canberra it's easy to get to, too, and there are plenty of accommodation options if you want to make a full weekend of it (we would certainly recommend it!).
Jump onto Trailforks and see the full map of MTB Trails of the Snowy Mountains.
Best trail for beginners:
Best trail for experienced riders:
Top Tip: If you are a fitness freak you can pedal back up the hill or you can call your friends at Snowy MTB Shuttles for a boost up the hill.
Tail map:https://www.trailforks.com/region/cooma/trails/
JINDABYNE
Jindabyne, famous for its beautiful lake, is a perfect weekend trip with family or friends all season round. What many people don't realise, however, is that Jindy has 40+ MTB trails, and the views are exceptional.
You can pick your adventure with the local trails in around the lake such as Copper Tom and The Hatchery trail, or you can challenge yourself at Tyrolean and jump on the Pink Trail or Three Lions.
Best trail for beginners: Hatchery Bay Trail
Best trail for experienced riders: Three Lions Trail
You can car shuffle and ride from Tyrolean to Jindabyne town for a bit of type 2 fun.


Top tip: Check out Tyrolean and it's array of trails. You can car shuffle or cycle over from Jindabyne town for a bit of type 2 fun.
Tail map: https://www.trailforks.com/region/jindabyne/trails/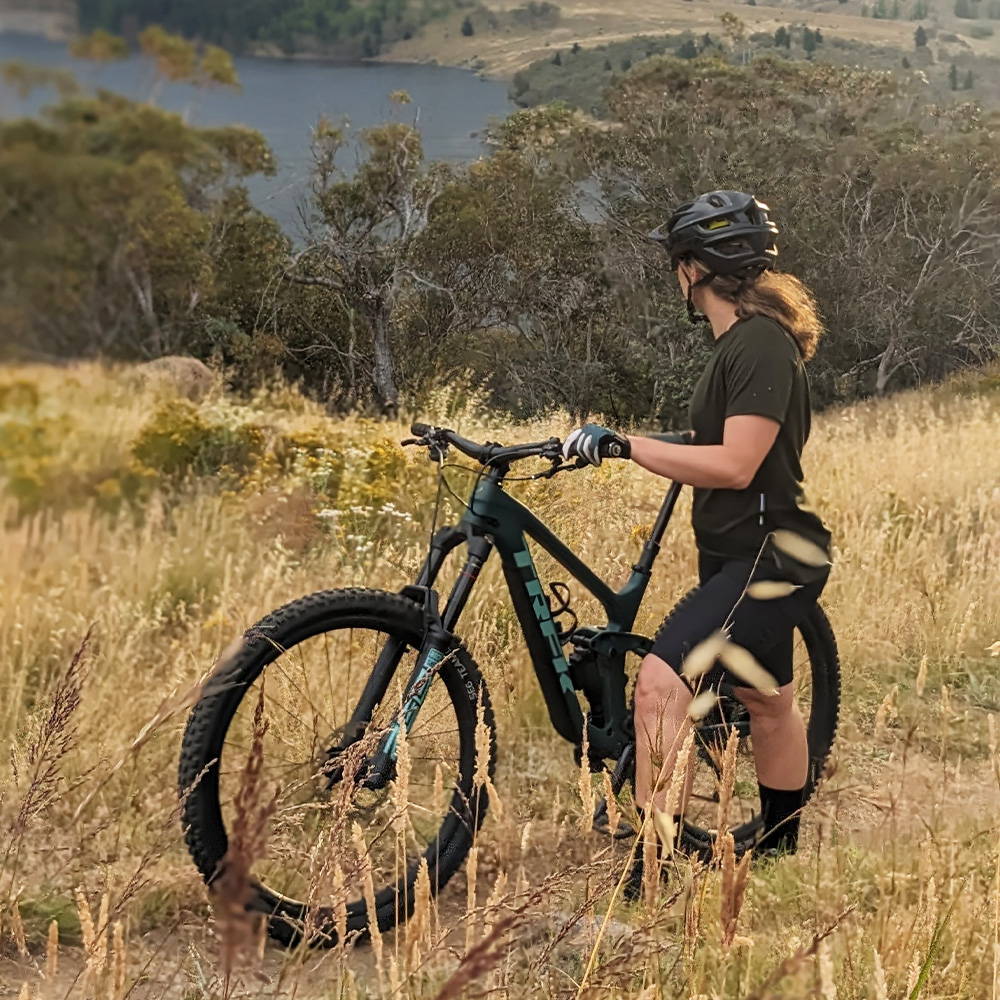 The Jindabyne local mountain tracks are maintained by volunteers from Jindabyne Trail Stewardship. You can check out their page to keep updated with the status and conditions of the local trails and also get involved with one of their upcoming Trail Days.

Cooma trails are maintained by Snowy Mountains MTB Club. You can support them directly through their facebook page
THREDBO
By far the most well-known cycling destination in the Snowies, Thredbo is located in the heart of the Kosciuszko National Park and is about a 5.5 hours drive from Sydney and Melbourne and 2.5 hours drive from Canberra. It offers the perfect weekend experience and has activities for the whole family.

Best trail for a long ride:Thredbo Resort to Jindy
Feeling like a long adventure? You can ride all the way from Thredbo Resort to Jindabyne. Warning, best enjoyed on a E-bike. The Thredbo Valley Track is 37kms of Snowy Mountains scenery. You can make the trip shorter and just ride to some of the campsites such as Thredbo Diggins, Ngarigo Campground and Lake Crackenback Resort. The campgrounds offer lovely picnic spots for you to have your lunch, and to cool off in the Thredbo River. Plan in advance to do a car shuffle and you are good to go.
Best trail for wilderness adventure:The Cascade Trail
Want to be out in the wilderness and experience a part of the Australian Alps Walking Track? The Cascade Trail is just up the road from Thredbo Resort and across from Dead Horse Gap. Just a 20km return to the historic Cascade Hut, this is a great ride or walk for beginners. Also, best experienced on a E-bike. Lucky for you, Rhythm Bike Shop has plenty in stock.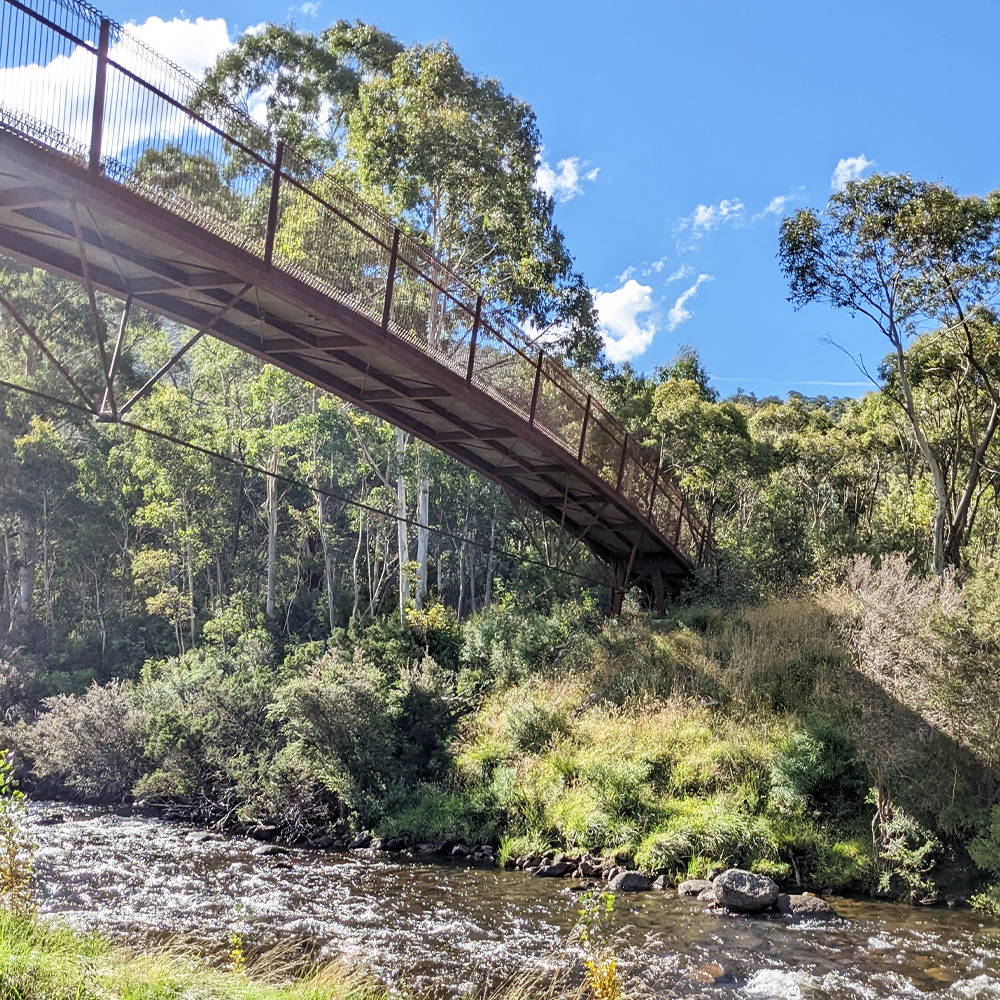 Best trail for bucket list riders: Mount Kosciuszko
How about being the highest person in Australia? Head up to Charlottes Pass with an E-Bike and experience a high altitude ride up to Rawsons Pass (2110m) then Summit Mt Kosciuszko (2228m) by foot.
Top tip: Head up Mount Kosciuszko for sunrise or sunset for an unforgettable experience - believe us, it's worth the early start but do check the conditions before setting off and remember that bikes can only be ridden on the road up to Rawsons Pass and not on the Main Range Track so be sure to take a bike lock with you.
Thredbo also offers a purpose-built mountain bike park with lifts to get you on the move quickly. There's over 40kms of trails, each graded by difficulty so you won't get any nasty surprises if you're new to trail riding. If you're seeking the thrill of Downhill, the lifts for Thredbo MTB start spinning on November 18 2023. All information regarding Thredbo downhill can be found here.
Trail map: https://www.trailforks.com/region/thredbo/trails/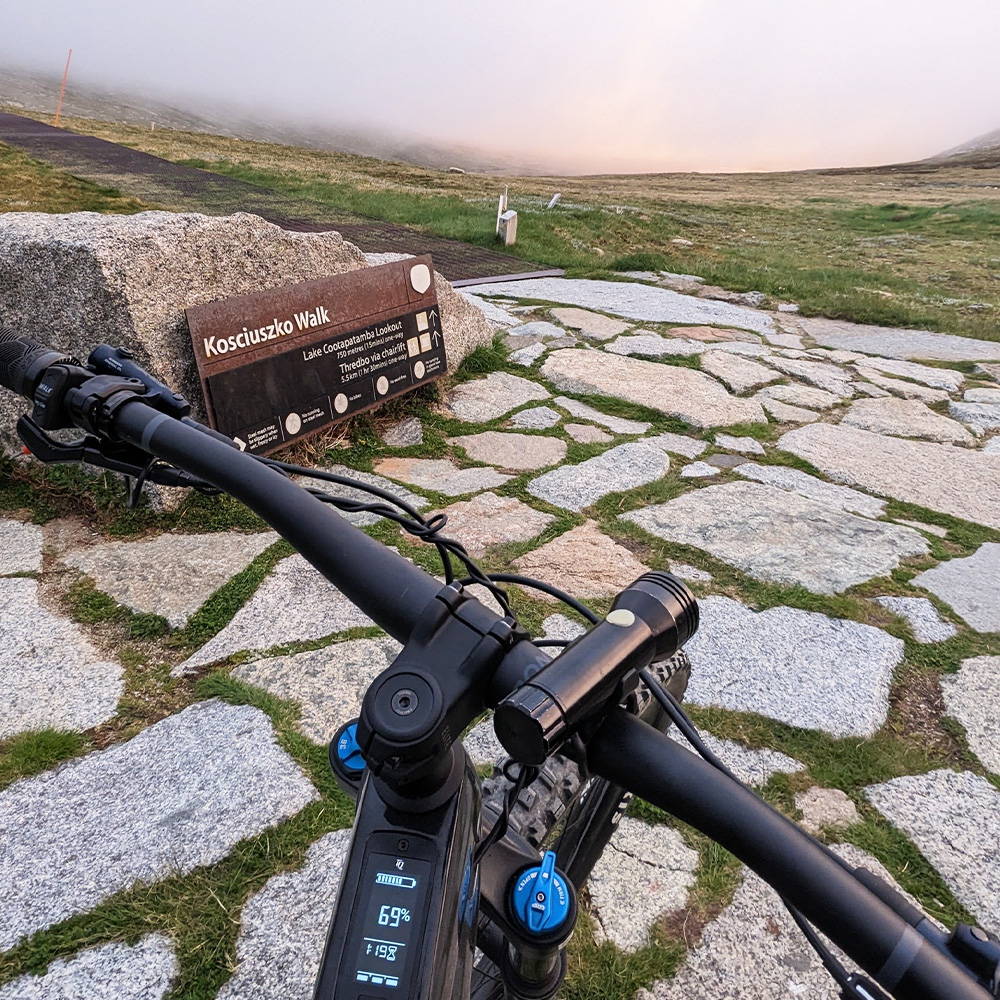 SUPPORT Your Local AUSTRALIAN BRANDS
Norman MTB is born right here in the Snowy Mountains. They are a true local brand that use locally sourced materials with the environment in mind. You can find stretchy, recycled MTB specific apparel that is sleek in design.
We The Riders are an Australian brand from QLD with a true passion for Mountain Biking. WTR aim to inspire the community to follow their two wheeled dreams through their range of mountain bike specific apparel and accessories. You can find technical and casual wear that make you feel apart of the MTB community.
Rhythm Bike Shop is now open and stocked with a wide range of bike accessories, safety gear and apparel to keep your adventures rolling. Whether you are an experienced MTB Lord or new to the pedals, the bike shop has a range of Dual Suspension bikes, Downhill bikes, Hardtails, E-bike and kiddies bikes from our friends at Trek and Kona.
Come check out the new bike shop and speak to our knowledgable staff, maybe book in with our Bike mechanic to get you tuned up for the season.
Do I need to take my own bike, or can I hire?

There are a number of bike hire shops around the area so you don't need to bring your own bike, although you may choose to if you're a regular rider. You can also hire safety equipment in Thredbo Resort or in Jindabyne or Cooma.
If you're taking your bike, be sure to get it tuned up in advance. Thredbo resort requires bikes to have two working breaks and from suspension as a minimum so don't get caught short.
Can you mountain bike at Perisher?
Perisher sits next to Thredbo on the edge of Mount Kosciuszko, and you can access Mount Kosciuszko from the resort. However, Perisher itself has limited MTB trails. You can ride on the service tracks but it's worth noting that you may come across service vehicles on your ride.
You can find trails close to Perisher here: https://www.trailforks.com/region/perisher-valley/trails/