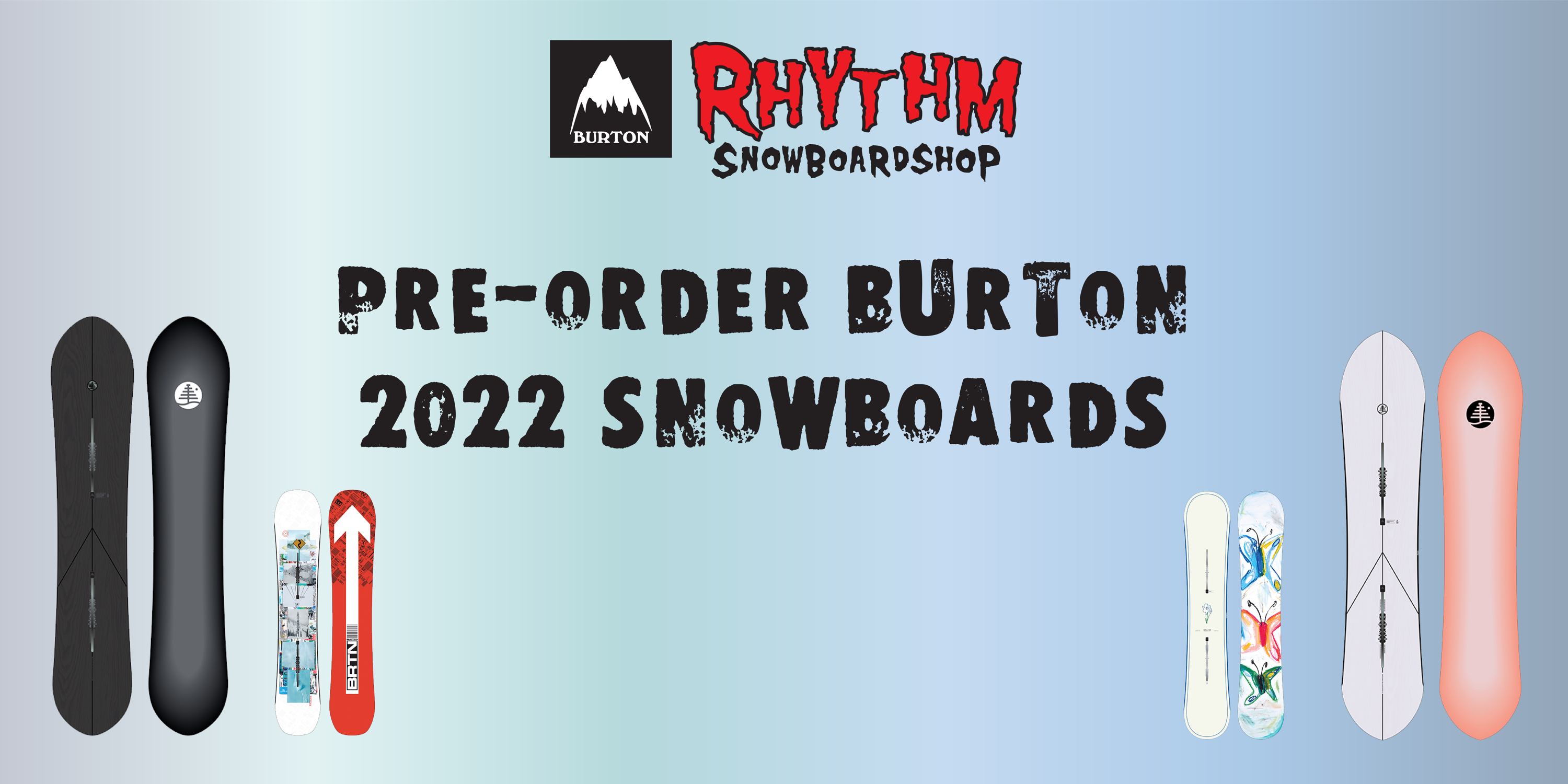 BURTON 2022 SNOWBOARDS ARE UP AND READY FOR PRE-ORDER
The new Burton 2022 snowboard range are ready to be pre-ordered, and will be ready to ship in the middle of April! Lock in your new board for the upcoming winter season and ensure you don't miss out! Get your hands on the new designs & boards and get ready to rip up a storm this year. Burton also give a 3 year warranty on all of there snowboards so you know you're covered.
With the channel binding mount on all boards, being able to fit any type of binding, and also perfect for the Burton Step Ons!

We offer zip pay or after pay on preorders too, so you can order now and pay later. Whats stopping you?
One of the newest mens all mountain, directional boards released in Burton's fleet is the Cartographer. This snowboard has a directional cambered body with a rockered nose to help keep the board afloat on powder. The nose is stiffer and slightly longer, which means there's no need to set your bindings back as they're already placed further back on the board - ready for that jap-pow, right?
The Process - Mark McMorris' go to board for the reason of the flexibility of being able to take this board anywhere. See him riding this board in the recent competitions! Whether it's the back country pow, groomers, to the halfpipe or jibbing in the park. A twin tip making it a true free style board, and is more on the softer side with a 3.5/10 flex rating.
Grab this board in Pure-pop Camber or Flying V.
One of the most popular boards in the Burton range. A directional Camber board, that's perfect for all mountain and cruising anywhere you feel. This one is more aggressive and stiffer side, but for an intermediate to advanced rider it'll get you stoked no matter where you to be riding.
Want this guy in a twin tip? Have a look at the Free Thinker, and I'm sure you'll find what you're looking for.
The Custom is one of the most popular mens boards in Burtons fleet! It's been around and modified for the last 20 years. The most versatile board and perfect for any type of terrain you want to explore on the mountains. This directional board with a twin flex from tip to tail, and will get any rider frothing out!
A lightweight, poppy board in Camber but also having the option of owning it in a Flying V shape as well.
With a soft flex and a true twin tip shape, the Rewind is perfectly versatile for any girl that like to charge hard all over the mountain, carving up the groomers to jibbing the park. The Pure-pop Camber profile has a flat base outside of the feet to amplify the pop and playfulness of this board. A 2.5/10 flex, making it super easy to press and pop for any snowboarder looking to up their game.
For the girls who love jibbing and jumping. The Talent Scout is a park board with full Camber and for the intermediate to advanced riders who like something a touch more aggressive with a mid stiffness snowboard. This girl can carve up a storm and perfect for those natural side hits, and is twin tip so riding switch will be a breeze. See this board make an appearance in the Aspen, Colorado world champs!

The Storyboard has become a staple in Burton's women's snowboards year after year for those free ride girls. A directional Camber with Rocker under the nose will keep you floating all day in the deep, deep powder and being able to do those dreamy sharp carves on the groomers. More pop in the tail just to make to that much easier for you.
Feel GOOD, baby. Another directional snowboards in Burton's line up, with a longer nose and shorter tail, but one of the most versatile snowboard they've kept around. A responsive Camber board with a 6.5/10 flex, a perfect all mountain snowboard for a girl that wants to push her riding this winter.
Also avaliable in a Flying V hybrid profile.
Not sure what board profile or size is right for you? Check out the blog post in the next photo. If you're still unsure, our legendary snowboard staff can help you out.
Come in-store or check out our range online today!
Posted by Shopify API on