Ski Gift Guide | Rhythm Snowsports
Find a ski gift they'll love in our skiers gift guide! With shipping australia wide & a 365 day return policy, you have nothing to lose!
Gifts for the skier in your life
The snow season might be over in Australia but the skier in your life will still be dreaming about carving the slopes and getting ready for the new year! Maybe they're even lucky enough to be hitting the pow in Europe…
Finding a gift for a skier can sometimes be tricky, particularly if you're not a skier yourself, but our awesome team have picked out their top gifts to help you out.
From the latest high-tech equipment, to cosy apres ski essentials, these gifts are guaranteed to put a smile on their face. No matter who you're looking for, or at what price point, we've got you covered! We're so confident they're going to love their gift that we have a 365-day exchange policy too.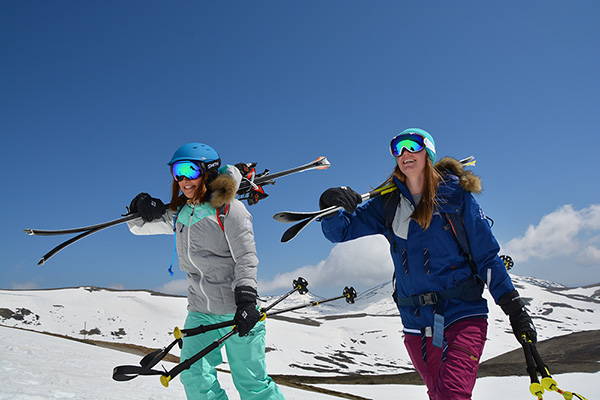 The best stocking stuffer for a ski fanatic
Walking from the carpark to the car or storing your skis is a pain when you have heaps of gear and you need to keep things organised, at Rhythm snowsports we've taken the hassle by creating an affordable velcro ski strap to keep your skis together no matter how you are transporting them. They come in a pack of two
The Secret Santa gift they'll fall in love with
Secret Santa gifts don't come much better than this. The super tech Flight Tracker XL goggle from Oakley is a stylish but practical addition to their snow equipment. Featuring a toric lens and PRIZM technology for the ultimate in fit and lens technology this frame is designed to sit seamlessly on the face with or without a helmet. Regardless of what goggles they have today, we promise they'll love this upgrade!
Available in regular and XL size fit, this is the perfect gift to bundle in for a man or a woman.
Shop all Goggles & Lenses
If you know, you know. Ski socks are an essential item for any avid skiers kit. Spending the entire day on the mountain in ski boots means you want the correct padding and insulation to last the entire ski trip. The Le Bent Core Light Sock is just that and at under $50 bucks you can never have to many sets in your travel kit.

The Core Light ski sock is made from a Merino & Bamboo blend to ensure breathability and temperature regulation. What does that mean? Keeps you warm in the cold temps and alows your feet to breath when they're working up a sweat skiing pow!
Check out our full socks range here.
Looking for a gift for him? Whether it's your boyfriend, brother or Dad, the Dalbello Boot & Helmet Backpack is our team's top "gift for him"- it's guaranteed to be a hit. With a classic design, it's the epitome of functional yet on-style.
It does what it says on the tin with space for boots and a helmet, but it also has extra handy compartments for a bottle and valuables too. The well-thought-out bag has a padded hand-carrying strap, length-adjustable backpack straps and ergonomic back padding for extra comfort. It's a timelessly useful gift for the discerning male skier.
For the adventurous and style-conscious lady in your life, the P.E. Nation Cropped Man Down Jacket is the ideal ski gift for her. Elevating outerwear to new heights, this cropped version of the classic Man Down spray jacket has a relaxed fit, ensuring both comfort and style. It's the ultimate grab-and-go layer which will look awesome wherever you apres and through the year off the slopes.
When it comes to the best gift for young skiing enthusiasts, the Pocito Obex MIPS Helmet takes centre stage. This lightweight and highly adjustable helmet ensures a secure, distraction-free fit, and will keep them safe all day long.
The kids are guaranteed to love the fluoro colours, and, with the RECCO® reflectors, you'll be able to spot them on the slopes too!
Nobody likes being cold on the mountain, so getting started in the warmth is a real winner.
The Lenz Space Warmer will do just that! Charge them in the car on the way up the hill and stepping into their boots will never have felt so good. This will be a sure-fire success with any avid skier in your life.
We hope you've found the gift you were looking for but if not, you can't go wrong with a Rhythm Snowsports voucher. We stock all the top brands, including the largest range of Burton snow gear in Australia. The vouchers are particularly useful if you've left it a little late as they'll be in your (or their) inbox quickly too..