GLACIER HIKING IN PATAGONIA

Recently I was lucky enough to go to Patagonia. It's somewhere I've wanted to go for years so to finally get there was unbelievable. We flew into El Calafate in Argentina and it didn't matter which direction we looked there were snow-capped mountains.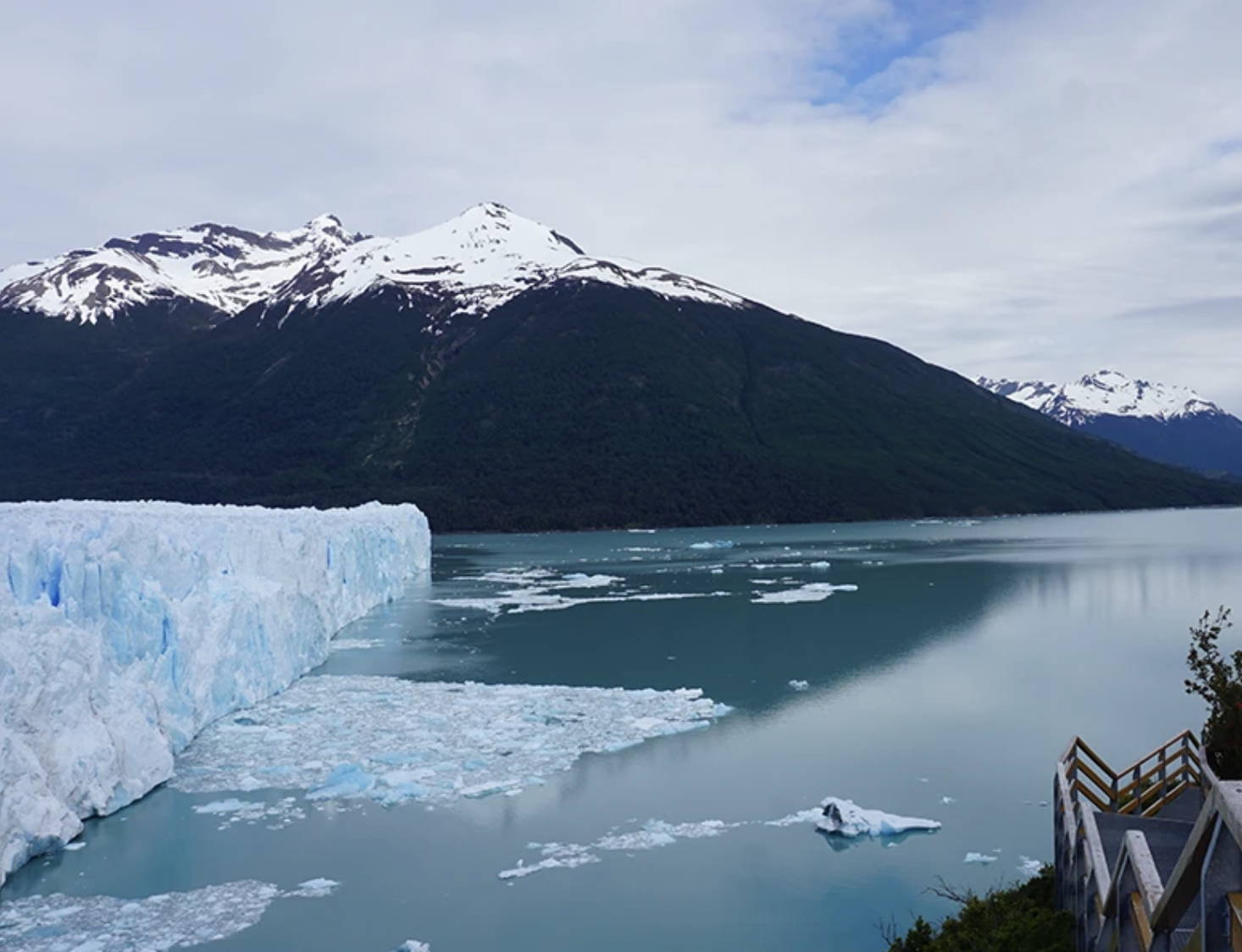 El Calafate is a small town with an American ski town vibe, right on Lago Argentino, the largest freshwater lake in the country and one of the biggest in South America. When we arrived we knew we had to make the most of our time there and one activity we couldn't leave without doing was hiking on the Perito Moreno Glacier.
So the first thing we did was check the weather and book a day trip to the glacier. You can't really trust weather forecasts but it gives a slight indication of where to place your bets for the best weather. There are 3 tours offered to Perito Moreno Glacier.
1. Big Ice. This is the tour we did and boy it's expensive but completely worth it. It is a full day excursion that starts at the balconies overlooking the glacier and then a guided tour hiking right into the glacier, feels like you go right up close to the mountains but they are still kms away. We hiked about 12kms and were on the glacier for almost 4 hours. The cost was over $400, again worth every cent. (more info below)
2. Mini Trekking. This is like a sample of glacier hiking. It is an all-day tour but you're only on the glacier for about 1.5 hours.
3. Bus to the balconies that overlook the glacier, incredible views but you don't get on the glacier. Photo below is from the main balcony.
Our day: Big Ice tour Our day began at about 7:00am from our hostel, we were picked up and driven about 1.5 hours to the balconies that overlook the glacier. The view is incredible but literally only got better throughout the day. From there it was a short drive to a boat that took us over to the glacier.
Off the boat, there was a small hut where the crew checked all our equipment, made sure everyone had gloves and gave us time for a snack. Then a short walk through the forest to get fitted out with a harness and crampons. The crampons were serious business, I don't know what they weighed but they weren't light! Once we got to the glacier we put on the crampons and the group was split off into smaller groups. We had about 8 people in our group which was good because we had to walk in single file (following the steps of our guide) and everyone could still hear his instructions and all the information about the glacier. There was also an assistant guide who followed at the back or at the side to ensure everyone was safe.
The guide asked us if we wanted to have a real go, to which we obviously answered yes. This meant we went further than the other groups, and at our furthest point we could see the other groups in the distance below us.
The guides were next level, so knowledgeable and told us in depth all about where we were, what we were seeing and why things were the way they were. The views were incredible but learning about the environment and the phenomenon of the glacier was the highlight for me.
So what is a Glacier?
A glacier is an immense mass of ice and this particular one is huge being 30km long and 254 square km in area. Our guide told us there are 3 reasons this particular glacier is so phenomenal.
1. Access onto the glacier. There aren't many glacier around the world that can be accessed so easily to walk on or just to have such close viewpoints.
2. The size. Our guide told us since 1917 the glacier has remained stable. Glaciers have two zones, accumulation and percolation. The stability of the glacier means the snow increase in the accumulation zone is enough to compensate what is lost in the percolation zone.
3. The breaking. Now the science behind this is a bit beyond me, but, because of where the glacier is in relation to the lake means the glacier is constantly breaking. We were lucky enough to see two breakages while on the balconies. The sound is unbelievable. Like you're in the middle of a huge thunderstorm.
What to take hiking
Day pack. I'd go one with a hydration component, it's like any other hiking, you should keep up your fluids. I normally have an Osprey pack hiking but this time I took the Go Pro Seeker backpack so I could mount my Go Pro for POV footage without wearing a chesty.
Down Jacket: I had the Patagonia Down Sweater.
Shell jacket: Patagonia Torrentshell jacket.
Gloves! If you don't have gloves they have spare ones. I took the Oyuki glove liner with the grip so I could still use my phone for photos without taking my gloves off.

Hat and beanie, take both, weather can change and you need to be prepared to rug up. We got lucky we had a beautiful day so only needed a hat.

Sunscreen! And then more sunscreen! The sun has twice the reflection on the glacier just like the snow so put it on then put it on again. \

Sunglasses, same again, the sun has double the power, protect yourself.

We got told to bring waterproof pants but no one had them, I just sat on my waterproof jacket at lunch.

Go Pro. I am the biggest fan of Go Pro and I think you'd be crazy to go somewhere like this without one. I had the Go Pro 5 and a Sony camera but the Go Pro is so small you use it more often. The photos on the Go Pro's these days are such good quality.

Lunch and drinks.
What to Wear
Good socks. None of these socks made from synthetic materials. Get yourself some proper socks, merino bamboo blend socks from Le Bent are pretty hard to beat.
Thermals or base layers. I had Mon Royale base layers, full merino but they aren't itchy. I actually had the singlet top, T-shirt and long sleeve with me so I could react to the conditions.

I wore thermal skins, I have used them before for hiking and love them.

Hiking boots

You can get away with joggers but it didn't look like fun. Chances are it's not the only hike you'll do in Patagonia so get yourself a pair of proper hiking boots.
When to Go
Early August to Late May. We went in November and the weather was amazing. I don't know if that was luck or time of year. Our guide did tell us that because of the heat there was more liquid around than normal.
Things to Note
The price of the excursion doesn't include lunch or the national park entrance fee.

The Big Ice tour is considered to be physically demanding and you need to be physically fit to go on it. They won't allow you to do the excursion if you are pregnant or obviously unfit.

Talk to your guide – seems obvious but let him know what you would like from the day, we wouldn't have trekked so far if he didn't know we were keen. - Put your spare batteries in a pocket where they can keep warm, cold air drains batteries.


I took spare SD cards and a battery charger. I would hate to get all the way out there then find a problem. Patagonia is such an amazing part of the world. This was just how we spent 1 day. There is so much to do, look up what you want to do and rough prices because it isn't the cheapest place to visit but in saying that there is a lot you can do by yourself without a guide.
For tips on your Snow Sport equipment stay in touch with us: facebook: facebook/rhythmsnowsports Instagram: @rhythmsnowsports twitter: @rhythmsnowsport
Posted by Emily Dorahy on